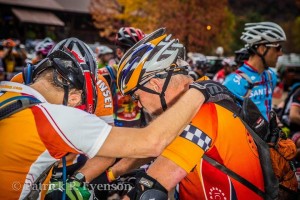 If this is your first time here we're curious how you found us? Did we feed you a chili dog, some spaghetti or a sno-cone at a 'cross race, 100 mile MTB epic or Thursday night short track mountain bike crit? Did we work on your kid's bike before a charity ride and knock the rust off the chain and adjust her brakes? Did you see a group of guys and gals rolling down Clayton Road or Grant's Trail together in orange jerseys with a cross on them and wonder "What's ChristianCycling?".
We love Jesus. We love bikes. We bring the two together to proclaim Christ's name through Scripture. We show our Savior's love by serving the cycling community at races and charity events. We pray for each other and grow lifelong friendships that transcend two wheels. Finally- we actively disciple those in our community that need to hear the good news of Jesus' Gospel.
We ride together frequently on the road, track, MTB trails, velodrome and CX courses. You can see many of our team at Tour de Donut, Pedal the Cause, the MS150, the UFD East MTB race series, the 2TG Summer Dirt Crits and countless shop rides like "The Hub Ride" on Saturdays in warm weather.
If your're not connected yet click on the "Membership" tab for this website.
Once you've joined we'll be in contact so you get connected with a group ride.
Jon Schmidt- Missouri Spoke Director
---