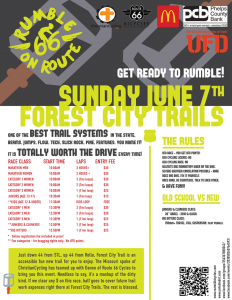 Route 66 Bicycles of Rolla, MO & Christian Cycling Team are happy to announce that registration is LIVE for Rumble on Route 66 Mountain Bike Race on July 19th, 2020 (reschedule from June 7th due to Covid 19)
Registration is open!!!
https://www.bikereg.com/rumble-on-route-66
Online registration fee's are included in the published price.
This year we are doing ONLINE REGISTRATION ONLY. No onsite registration to minimize unnecessary contact. We'll also be setting up a staggered starting grid, with call-ups to space folks out, etc..
================================================
First off a HUGE thank you to Phelps County Bank, McDonald's, Route 66 Bicycles and the City of St James for continuing their support of this race, especially in light of the current economic climate.
Route 66 Bicycles of Rolla, MO & Christian Cycling Team up every year to bring in folks from around the region to ride/race one of the our favorite trails. Forest City Mountain Bike Trail in St. James, MO. This trail has everything from flow trail, to rock gardens, and even wooden features.
Proceeds from the event go back to building and maintenance of this gem of a trail system!
================================================
We have made alterations to the start times, and routes.
All Cat C (beginner class) racers will now be doing the full 11mi loop instead of just a single 7mi loop.
Women (all categories) wlll be racing in the morning. Our goal / hope is with using the longer loop for Marathon and Cat C the Cat A/B/C women will get to have their own race without having to deal a ton of lap traffic or the Men's Cat A/B horde.
Men (Cat A/B/C) will all race in the afternoon slot.
We are adding an extra 30min between the morning and afternoon races to allow timing to post results, get the starting grid set up, and let the kiddo's race!
And, simply for the sake of fun we are adding a new bragging rights race this year!
Junkers & Clunkers vs the Big Hitters! (old school vs. new)
Junkers & Clunkers: Break out your Huffy or your 1995 Stumpjumper... can you beat the Big Hitters around the track?
Big Hitters: Break out your 150mm+ full squish mountain bike with Flat Pedals! Don't let those junkers show you up!
Looking forward to seeing you all! (From 6ft away of course).
---