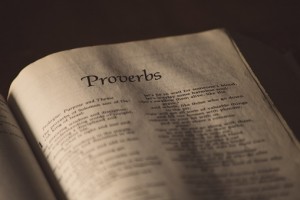 From November to March we are hosting a 10-session Bible Study on the book of Proverbs.

We'll look at the worldly and heavenly wisdom found in this book and bring in New Testament scriptures to tie this all to Christ and our salvation.
Here are the details:
- Start date: Thursday November 4th. Flexible day of the week depending on who commits to the whole 10 sessions
- Will meet every other week.
- Start time is 6:30 a.m. with a one hour session
- Meeting place is Uncle Bill's Pancake House – 14196 Manchester Rd 63011
Our goal is to get through the whole book but will divide it up by themes so we will skip around a little. Lots of great topics – benefits of wisdom, moral living, hard work, generosity, justice, etc.
Probably we'll do an assigned reading of 3 chapters a session but only actually read one chapter together and take a deeper dive on that week's theme.
Please let us know if you're willing to commit to spending 2x a month with us during the winter.
RSVP to [email protected]
---