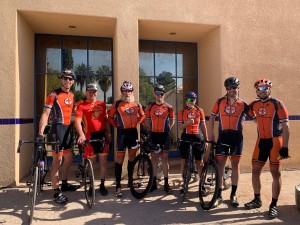 "Let them give thanks to the Lord for his unfailing love and his wonderful deeds for mankind, for he satisfies the thirsty and fills the hungry with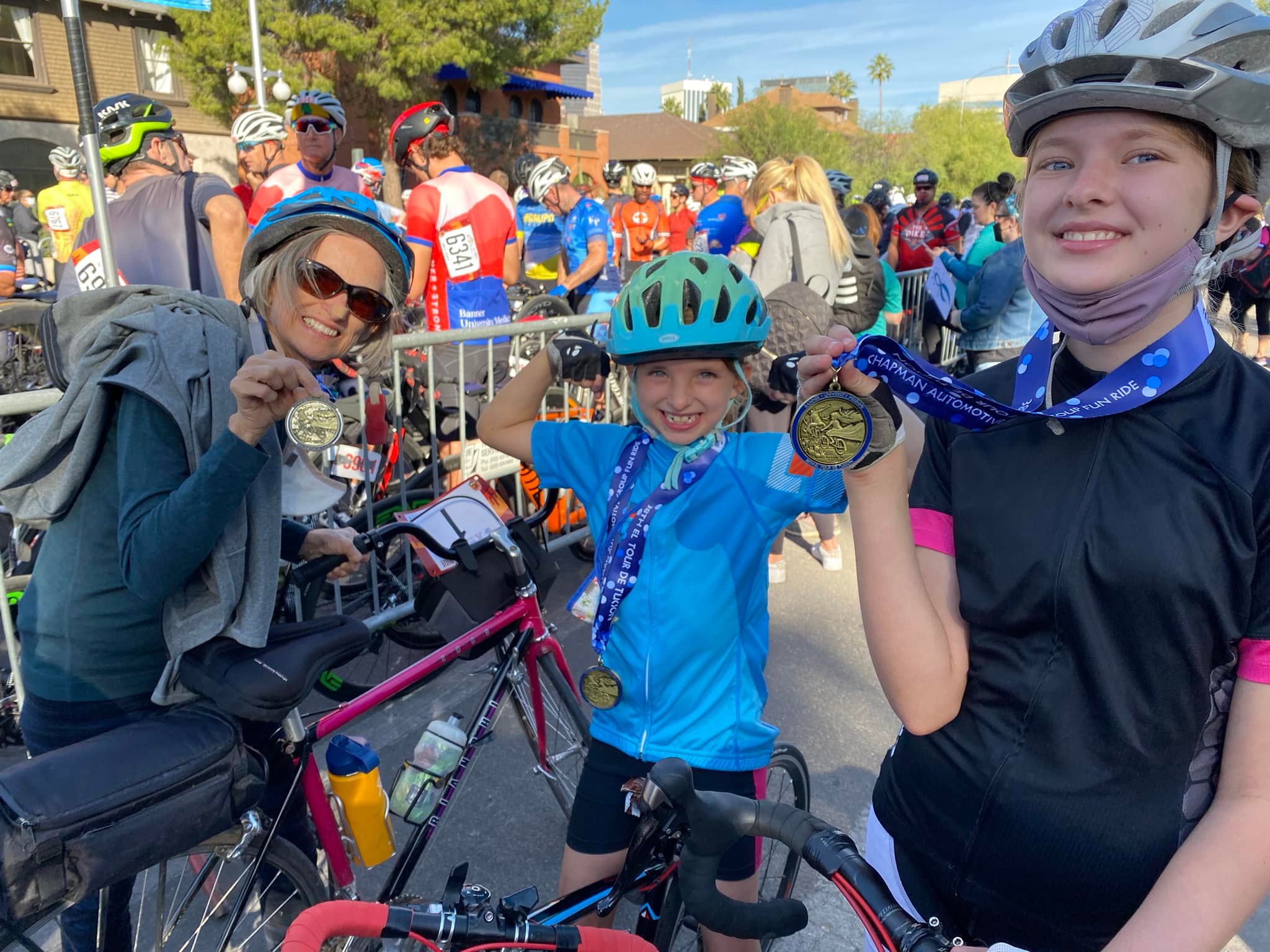 good things." Psa 107
We thank and praise God our Father through Jesus Christ His son for a challenging, competitive, safe and exciting El Tour de Tucson. We had riders participating in all distances, from 102 to the Kids Fun Ride.
We were the defending team for the Men's 57 Mile distance. So the pressure was on. We lined up early to have a good spot on the start line. The pre-start was a bit stressful because Michael forgot his Garmin at home (his wife Tina drove home and got it for him - thank you my darling). Tom had a number but without a timing chip. We had to go to the registration tent to get him a new number and then mount it on his bike and jersey. Our team consistet of Jimmy, Jamie, Conor, Tom, Ryan, Jeremy and Michael and were in good spirits.
The start was fast and furious. After taking the initial corners at speed, Michael went to the front and launched his first attack on Aviation Hwy. It was im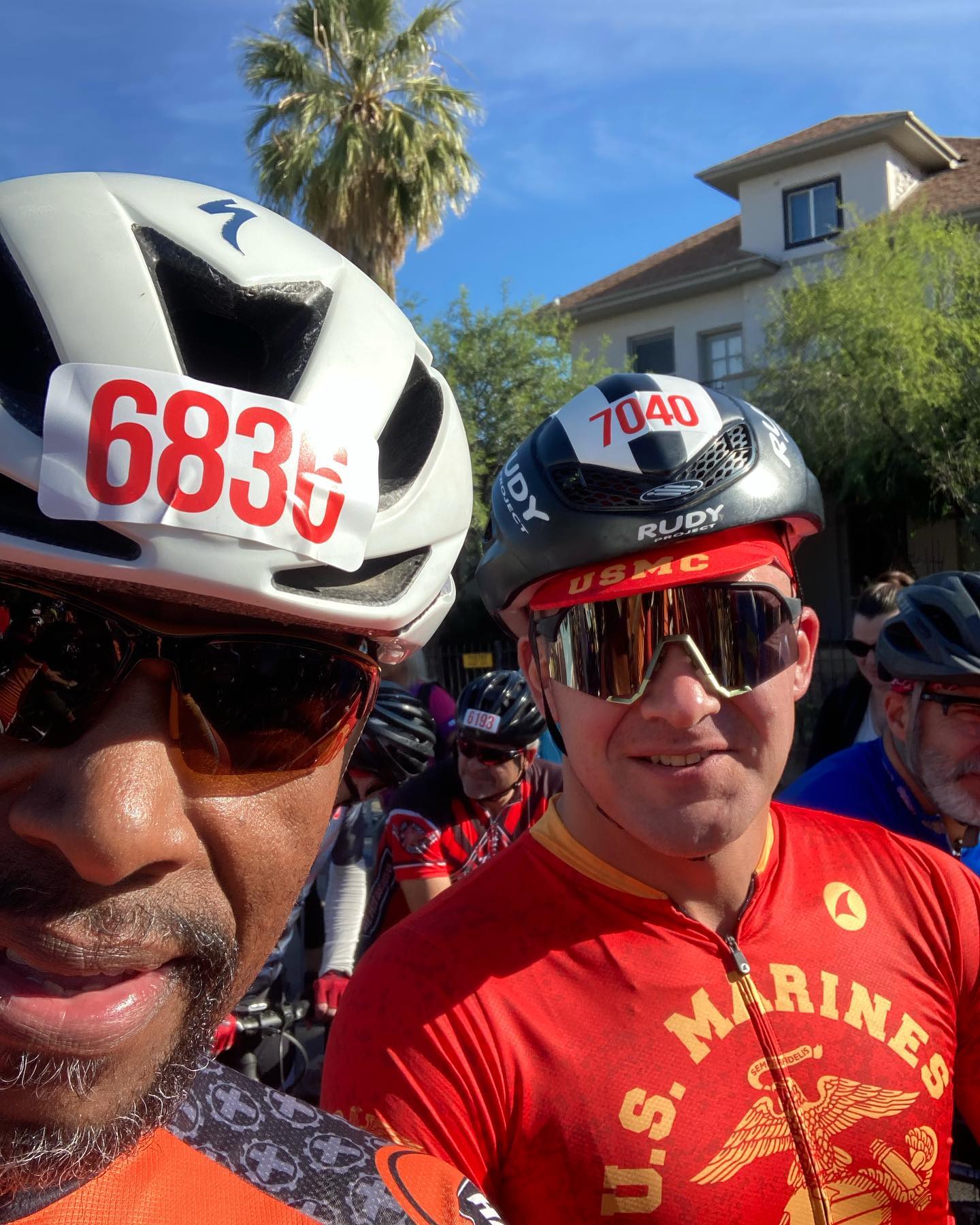 mediately pull back by a strong Bicycle Ranch team. Counter at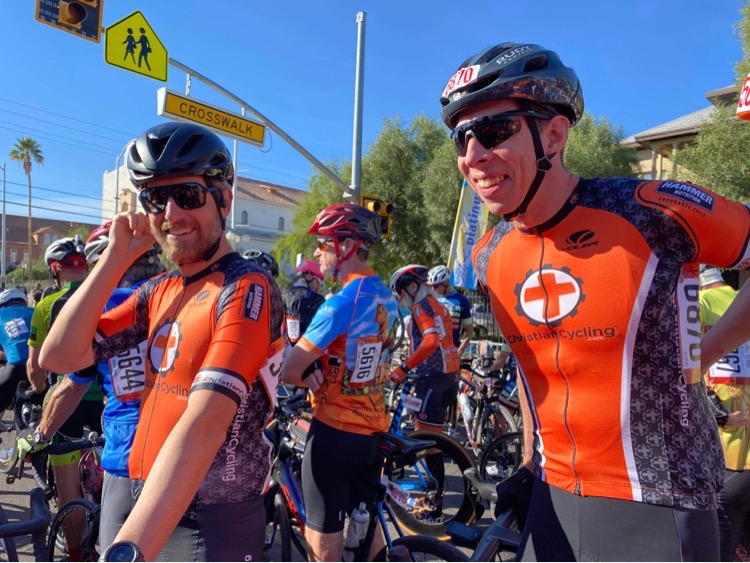 tacks were launched by Tom and later Jamie. But were was Ryan. Unfortunately Ryan, Bekah and Jamie got stuck behind some slower riders when the frist attacks were flying and had to TTT (team time trial) back onto the first group. On Aviation Hwy the race split into many groups with us being in the lead group of around 30 riders. The attacks and counter attacks were flying left and right when finally Matt from Bicycle Ranch broke away on Old Vail Rd. He had about a 10 second lead. Our team went to the front to slowly pull him back in which we did in the middle of Sahuarita Rd. After that the attacks paused for a while.
On Old Nogales Hwy heading back towards Tucson, we launched a few more attacks. Michael was able to stay away with Nick from Bicycle Ranch for a few miles. Towards the end of that effort Michael prayed that they will get caught soon, because the legs started to hurt.
Back in town, we all tried to organize the lead out trains for our sprinters. It was organized chaos. We had to deal with traffic cones that were placed partially in our lane of traffic. WHY? Then there were random cones placed and we all scratched our heads of why. But, all those cones were pointed out and didn't cause any issues for us. Once we crossed 22nd Street we were in a pretty good p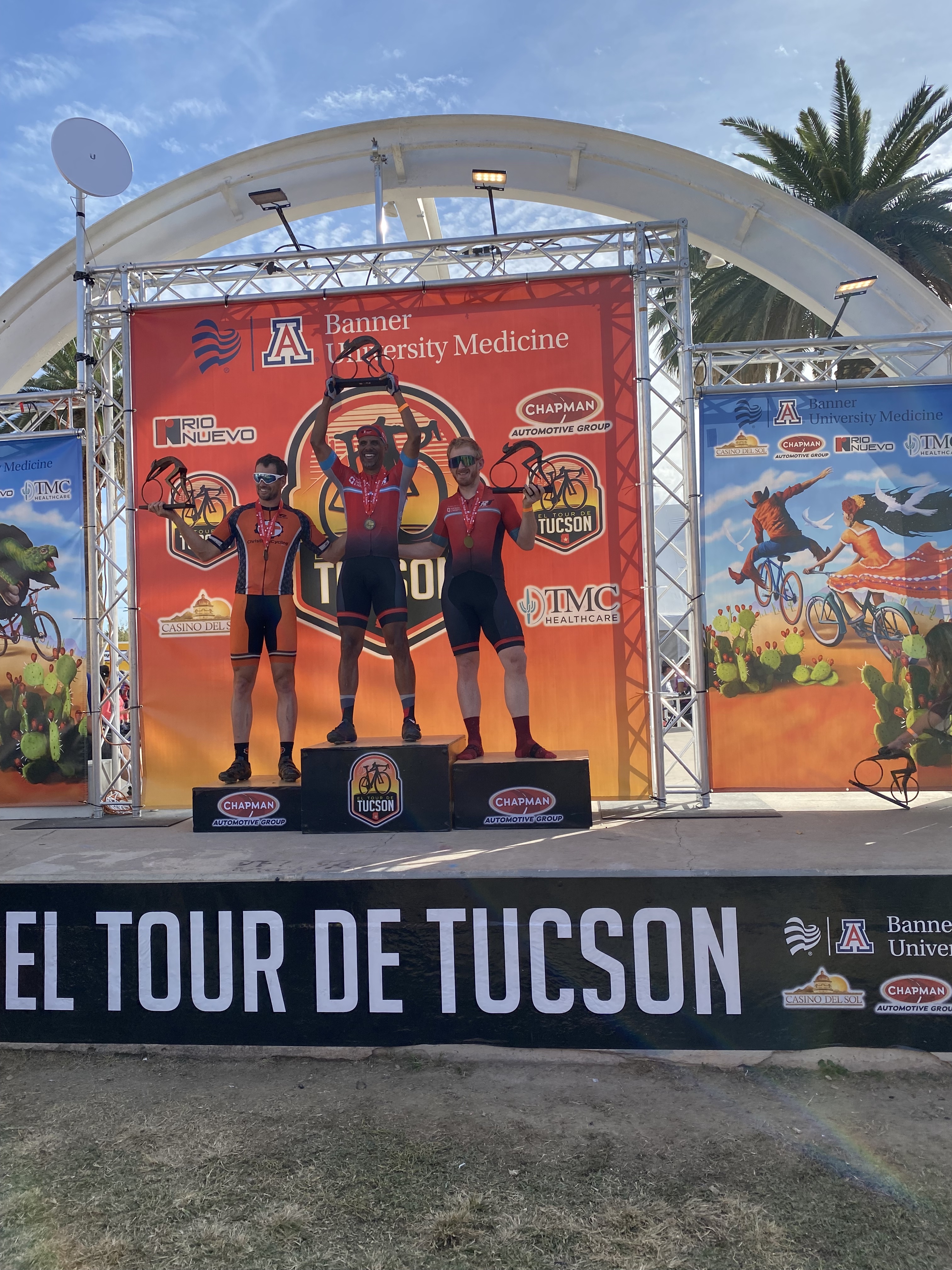 osition, but then the organizers placed 2 busses to funnel traffic, but there was n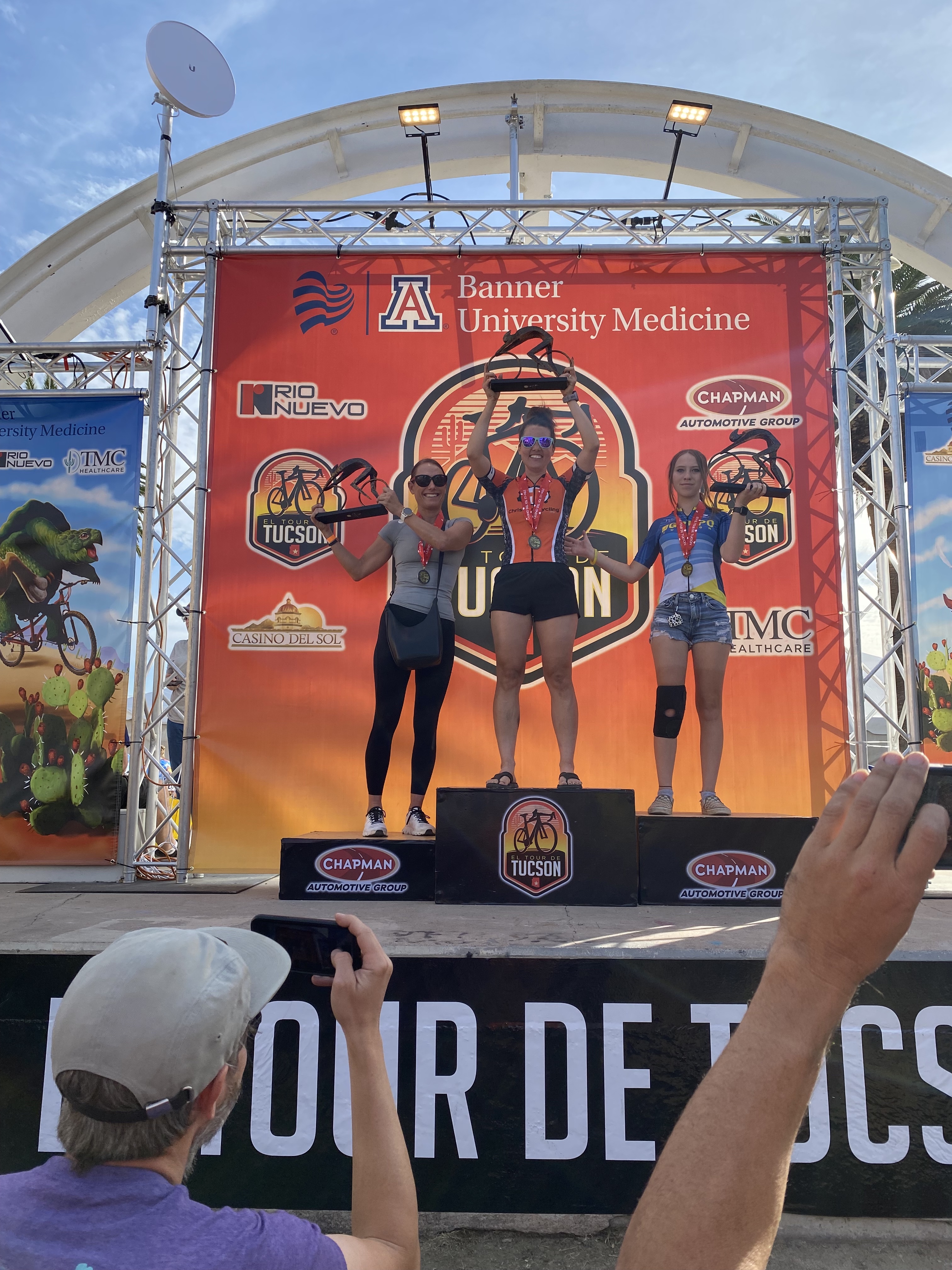 o traffic, we had the entire road.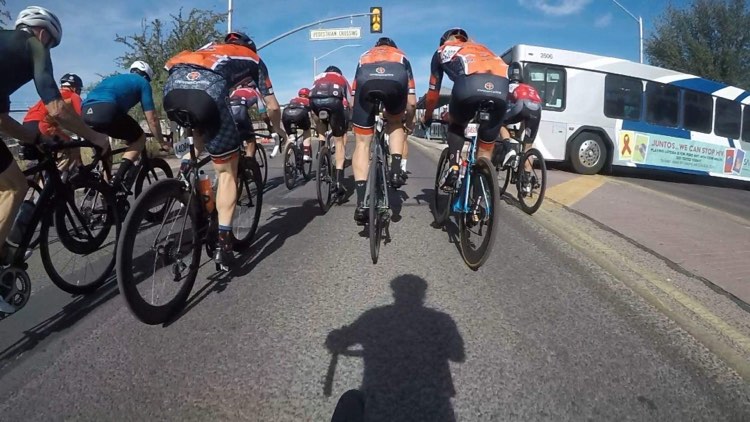 Anyhow that messed with our lead out and we had to re-organize. All of a sudden Tom was in front of me when he should have been behind. When we finally lined up again, James and Charlie started their sprint and Charlie won before James. Conor was able to secure 3rd place.
It was Bekah's first time racing in the El Tour de Tucson. She was able to endure the surges of the front group of the race at the begin on Aviation Hwy. No other female rider was able todo so, so she secured her 1st place early on.
Thank you Heavenly Father for a challenging and fun time on our bikes.
Thanks also goes to our local and national sponsors that enabled us to race: Oro Valley Church of The Nazarene, Reclaimed Story, the Law Office of Eric Post, Kelly Wright & Associates PC, Atlas Transmission , Hammer Nutrition, Schwalbe tires, Rudy Project North America.
---